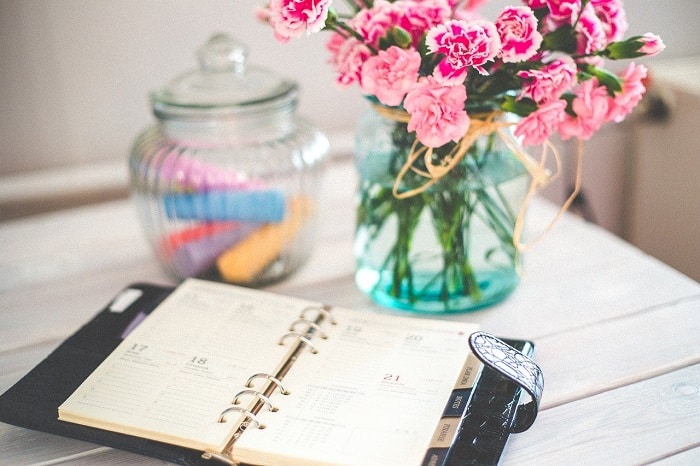 If the weekly scheduled proposed here worked for you, you can use the monthly planning below to continue scheduling after you finish Week 13 from the Comprehensive 13 Week Unwired and Unplugged Project-Based Guide.
Either way, I find the following strategy works out really well for organizing, especially if you use an eclectic range of resources or if you don't follow a set or packaged or online kind of curriculum.
It comes down to:
1. Forecasting, 2. Planing, 3. Scheduling, 4. Tracking and Evaluating
1. Forecasting
This could be done 6 months or a year ahead. In reality you can forecast as far in the future as you want, but chances are you will need to adjust expectations more the further you forecast. Here is a sample of my forecast for 9 – 9 and 1/2 years old.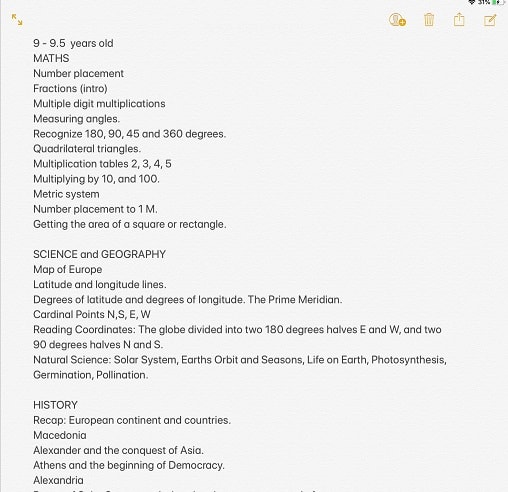 2. Planing
We plan per month according to our forecast. The point of the monthly planning is to have a place where we can keep track and organize the learning according to the time of year, where we're at, etc.
For example, in November I make sure I don't expect to do a lot science and grammar learning because we have the Children's Business fair and that is a project-based learning activity that is very intense and focuses on arithmetic, business, creativity, etc.
Regardless of when or where in the year you start your homeschool scheduling and planning, you can use this planing as a continuation of the 13 Week Indoors Unplugged schedule proposed here.
As you see, we don't get super granular, we just want to keep track of what we mean to do so it doen't fall through the cracks. If we didn't get to it, I mark it and re-asses the following months. I usually can do two to 6 months at a time.
Monthly Planning to Help You Formulate Weekly Schedule
After Week 13 of the Unplugged Project-Based Schedule you would plan to hit these learning in the following months. Otherwise, these serve as an example of how we would plan monthly.
Month 1
The Atmosphere
Practice multiplication tables through 5.
Recap number placement
Multiply by 10s
Continue Natural Science Lesson 7.
Recap Natural Science Lesson 7
Writing, Spelling, Grammar
Biography: Cecilia Payne
Month 2
Math Practice -3rd Grade Book (skip through content that doesn't make sense -not useful unless the child want to do it.)
Prepare and do the The Earth Challenge -Essentially do as close to a presentation on everything you know about the Earth and the globe so far. Be prepare to ask questions. This is a cha-Ching Challenge.
Natural Science Lesson 8 BIOLOGY
Recap what is Astronomy. What is Geography. What is Biology.
Biography: Emilia Earheart
Month 3
Photosynthesis
Germination
Pollination
Angles, measuring degrees.
How to use a protractor
Identify 360 degrees. 180, 90 and 45 degree angles.
Estimating angles.
Quadrilateral triangles
Radio frequencies
Biography: Hedy Lamarr
Add any content that got bumped from previous month
This is what some of our 3rd grade monthly planning looked like:
Month 4
Finish 3rd Grade Workbook
Metric system and decimals
History of Macedonia and Ancient Greece
Biography: Alexander of Macedon
Any content that got bumped from previous month.
Month 5
Recap Angles
Cardinal points, degrees of latitude and degrees of longitude, coordinates.
4th Grade Math Practice
Athens and Democracy
Month 6
Recap Lesson 9 -Angles, degrees and coordinates.
Set up and launch a Treasure Hunt
4th Grade Math Practice
Solving for X
Dividing and fractions
Multiplication tables 6, 7, 8, 9
Biography: Aristotle
3. Scheduling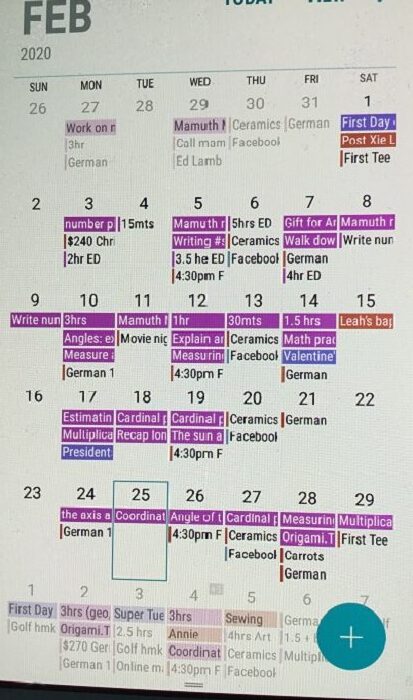 I like Google calendar because my husband and I can both use it and be on the same page. Some people have iPhones and prefer to use the calendar on that phone. I know a lot of families prefer wall calendars but my family would be lost without Google Calendar.
I have a few calendars. My husband and I share the "Family" calendar. They are color coded. I have a calendar where I schedule HOMESCHOOL. It's a nice bright purple because I tend to forget or lose track of what we're supposed to be doing or could be doing….
One important tip, is to not expect too much of yourself and your organization. The reality of homeschooling is that you go with the flow. I personally let my daughter get lost in a project or playing with her LEGOs or do anything that requires here undivided attention (as long as it's not screen-based). So what to do for homeschool today given how much time we have?
schedule tasks on the monthly calendar ahead of time. You can get more granular on the calendar vs the monthly planning. You can schedule the same tasks two or three times through the month or week so they don't fall through the cracks. And you can adjust this calendar very easily because it is on the palm of your hand.
And, it's easy to move things around. I sometimes also keep track of how long has been spend on learning. Inside the house and outside the house. This is for my reference and it proves that some weeks are incredibly productive or intense, while others are more laid back but just as important.
4. Tracking and Evaluation
I love this part! Not only because I can actually make a list of what my kid has actually learned, but because I usually see that the "core curriculum" part of the education is so little compared to all that our child does and learns.
It's true that by the time they're 4th grade age you can pump them with so much more than when they're younger, but who wants to burden the kids! We really seemed to turn up the volume on our daughter's learning this past year, and I see that our daughter's education is not lacking at all -it is rich and engaging, but at the same time she still has so much time to play, be social, and put more time on things that interest her.
Every six months or so you can jot down everything that has been learned and done. I include workshops, Science camps, any activities, classes or courses that complemented learning. Anything that contributes to education.
And in a separate document I write down every year what changes I have observed in our daughters learning. Where she thrives, where she lacks interest. Any changes in interest. Any accomplishments. Etc.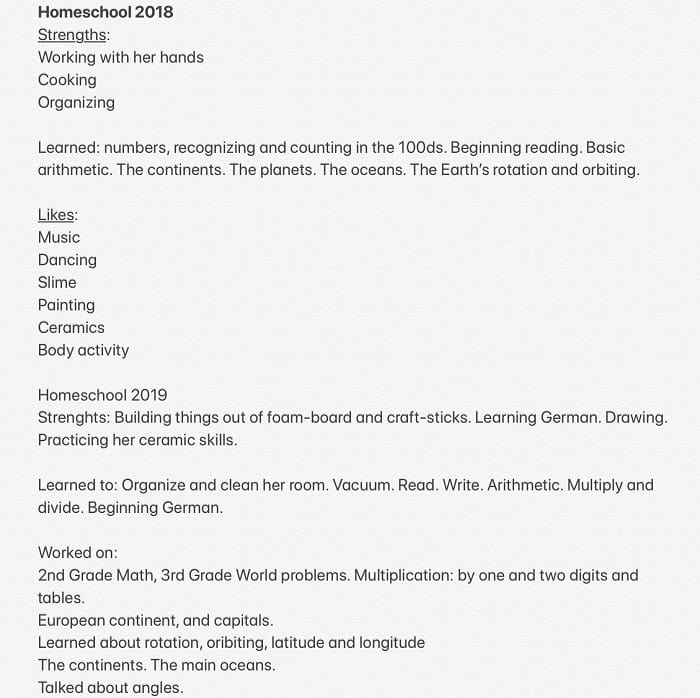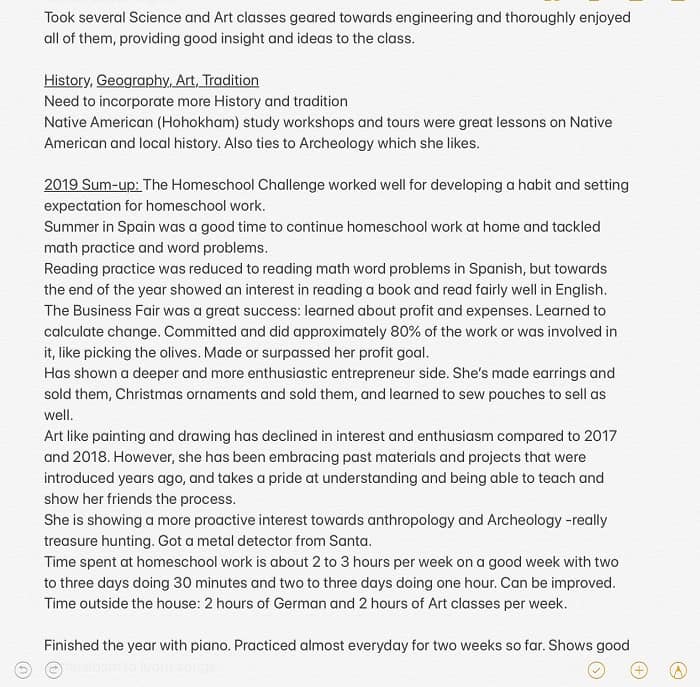 Frequently Asked Questions:
How long should we spend on homeschooling each day?
All in all the above schedule can take up to 4 hours. As the kids get more used to the Mindful Homeschool style, they will spend 1 hr on some days and hours other days.
If you are able to weave in classes outside of the home, co-op, Art, foreign language and sports, their indoor leaning will be 1 – 2 hours and outside of the house another 1 – 3 hours. With hardly any time for projects.
How much time should we spend on Math?
With the above curriculum we are aiming to keep the kids occupied for a good chunk of the day indoors. The math may only take 30 minutes some days and over and our on other days.
How much parent time is involved for guiding my child's learning?
Think of it as how long would you spend helping your child with homework if they were in school. No more than that. Sometimes less. Math requires some explanation of new concepts seating with them watching on some days. But most of Math is practice and they can do it on their own.
However, don't overestimate the social aspect of homeschooling. It can be draining for the parent because you are forced to be as social as your kids. I wrote a guide for:
10 Tips to Focus on Yourself and Homeschool
How to Homeschool and Only Child
Homeschooling Guide for Shy Moms
How Can Dad Get Involved in Homeschooling
How much time is involved in prep-time?
Prep time can be considerable but depends how you get organized. Having all the supplies needed to tackle a lot of the Projects at a given moment means ordering and shopping in advance.
Preparing lessons for spelling, grammar, history, etc. can take up some time. I would do it a week or so ahead of time and prep the night before so you know what your are going to say to explain a certain subject. Here, as far as Math and Science yo hare covered.
Researching book and ordering them ahead of time takes time. Here you will find some recommendations so the research is done for you.
Literature reading is up to the child. You can make a library at home and have them pick a book every time they finish a book or you can ask them what they would like to read next and order. We have a library of 15 library books at home and return them as we read them.
Will my child be able to pass the state standard test?
Testing is a skill in and of itself. You can get sample tests and prepare if that is important or required in your state. Ideally, you would not take any standardized tests. Homeschooling is anything but standard, so you will find that your child is doing some 5th grade stuff in 3rd grade. It's important to try to not compare your child's learning to school kids learning.
The Project-Based Learning Aspect
Every child is different. If they can't "own" the project, lead it, and complete it, then it's too hard for their skill level. The parent can help by providing the materialas, encourage, make it exciting, but not complete the project for their kids. The child can come back when he's ready and finish the project. Some frustration is OK too.
The purpose of the schedule below is to drive kids to the point where they can come up with their own projects and manage their time in a productive way. But y
You may have to remind them everyday that is time to do their homeschool, and may have to sit with them for a while. Sometimes it will be great and bonding, and sometimes it will be like pulling teeth!
You will notice that we are proposing a rather simple but rigid list of tasks for the first couple of weeks. If the child has been in school up until recently she/he will need to be told what to do and when to do it for a while. We want to keep them on a routine but not an overwhelming routine. An engaging routine without electronics. I find that to get the child into a creative and productive routine, homeschool should start at the beginning of the day and progress to child-lead learning (and focused unwired play) until dinner and sometimes you will see it goes well into the evening.
As long as the principal topics are addressed we want the child to really embrace the activities, projects and art involved. Sometimes it takes several days to go though a Science Lesson, because kids get very involved. This is good.
I do not recommend online based learning with any of the activities. The only thing that needs a computer to be learned are computer programs like video editing, sound editing, programming, etc. We don't suggest those activities in this age range.