Absolutely Best Games for Preschoolers – Games that will make them feel like big kids
I have done extensive research on this…
Fun fact about me:  part of my job description was to conduct focus groups for kids games. We also used to test products in a "play lab" which looked like a cozy living room full of toys for kids to play with and outfitted with cameras while we observed from the mirror wall and took notes on how kids interacted with each game. The toys we tested were electronic and educational and had a high price tag.
The games I list below are simple and engaging in ways that educational electronic games are not, and in most cases a lot cheaper. I did not observe through a mirror wall in a "play lab", I played these with my daughter over the yeas, her friends, watched her play with her dad, and watched kids at her preschool play with some of these.
I think the reason why I like these so much is because they are each fun in different ways. Even though they are not "educational" games, there is more learning in these games than in most "educational" games. And they train the brain for more sophisticated learning. They are also the perfect transition to "big kid" and they resonate with the TrueJedi way.
Normally I don't like to collect plastic toys, but, when I saw some kids playing with these at my daughter's preschool, my jaw dropped in envy and I just wanted it for me. Except it's just a very engaging game for kids, they love making shapes with the rubber bands, combining colors, connecting…
Geoboads is very simple for little kids to manipulate and create endless designs. It comes with several boards, so many kids can play, or if your child is just very attached to one of his creations he can keep it intact and go on to another board. This game comes with a ton of rubber bands, but rubber bands are so fun and versatile so they tend to diminish in numbers, luckily the dollar store sells like 1,000 rubber bands of assorted colors and sizes.
Because you get so many boards in this set, you can keep some in the car, take them on vacation in zip lock bags. I have even giftend a couple or few.
This one has a high price tag, but, it's a very well crafted game. We like this game because two players can play as well as a group and it is great for the little kids that are becoming super competitive and can't handle losing.
Orchard teaches the concept of winning as a team. All the players play against the raven who wants to eat the orchard's harvest. As kids get a little older, they realize they can develop simple strategies to win. It's a great intro to board games but fun to play it for years to come.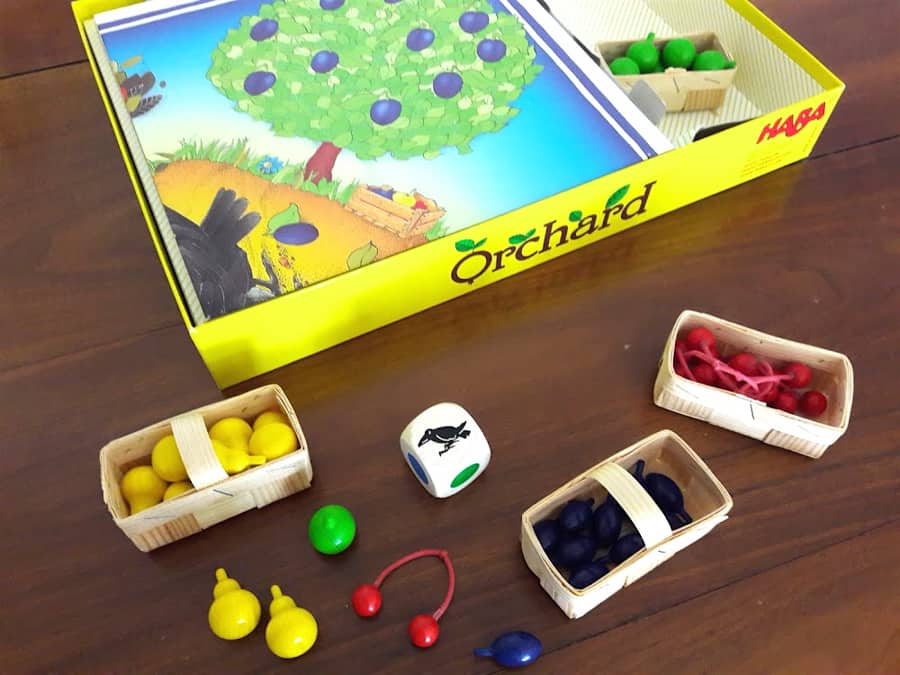 This game is a great introduction to playing cards and the game Go Fish is simple enough for little kids. This is a game that adults don't mind playing repeatedly, and kids pick up on that and makes it more interesting to them.
The one we recommend is very cute, and importantly has small cards so that kids can practice holding their cards vs. others that are just too large to fit in small hands.
The solar system puzzles are one of our favorite games because for some reason little kids have a genuine curiosity for learning about the stars, the planets…they ask why the sun sets, why is the sky blue, they love to hear about the names of the stars they see in the night sky. It is a wonder why Astronomy and Natural Geography are not core curriculum subjects for Preschool through well into the grades. For more on this subject please see our Free Natural Science Guide for 5 – 8 year olds.
And (Unplugged) Free Natural Science and Geography for 8 – 11 Year Olds
Our favorite is the Melissa & Doug Solar System Floor Puzzle  because it has been great for talking about the planets, it's a great group activity, and is endless learning as the kids grow they recap the names of the planets and which ones are closer and which ones are further. In our household, this puzzle has been a stepping stone for night sky gazing outings, attending star gazing presentations, visiting the planetarium, creating crafts.
Another game that keeps on giving. And by giving we mean that there are so many potential applications! Kids can build the example structures on the box, which are really great, and they can also build their own when the need arises (see pic below). Eventually, they will be building a car out of a box and need some wheels, well, guess what…dive into the Fiddle Stix box and get the job done. One important advise: remind her to put all the pieces back that she's not using, those Fiddle Stix need to be contained!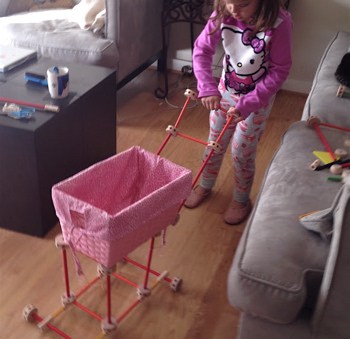 Dominoes are a fun way to gently introduce numbers, counting and addition in a very playful way. It's a good way to engage adults and the little ones, and there is the added appeal of using them as components to chain reaction machines which are fun projects when the kiddos are a little older.
The Melissa and Dough is a nice and not expensive option. All wood. Nice little game with lots of patterns, colors and templates to play with. There is a lot of math hiding in this toy. Somebody suggested using this game to give kids a glimpse into calculus by illustrating the many different shapes that one shape can build on, like fractals.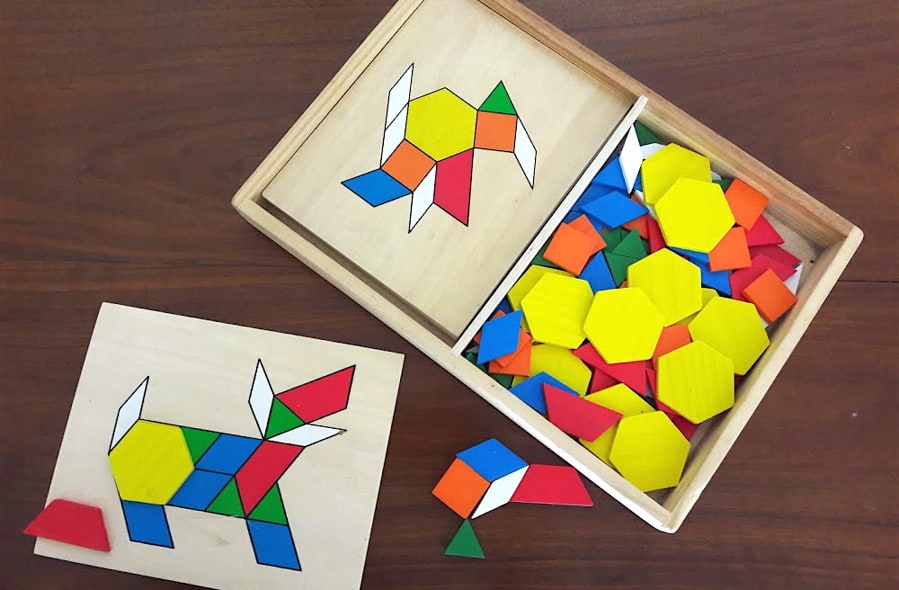 Oh! what endless satisfaction it is to pop the little metal balls into the tablet and pull them up with your magnetic pen. And what a beautiful toy.
It is fun for all ages but little kids get very intrigued by how it all works and love making shapes and popping them back in. This is another great toy to bring on car or plane trips, specially if your little one is media free. This toy is indestructible. The only thing that could happen is that you lose the pen. That would be bad, but we have had ours for several years and has traveled half way around the world a few times, somehow we still have the pen! I think it's because the pen is so tight in its slot that it doesn't come out in its own. These toys are very well built.
Another game that's great for travel. But also kids love this because grown ups seem to know how to play this and don't mind playing over and over.
We like this one because the case is not too small and it provides a good start to get acquainted with and love this game.
After a while they will just sketch it on any piece of paper at a waiting room or any situation when they just need a quick and casual game to kill time.
Melissa & Doug Suspend Family Game
I love this game because the whole family can play. It is a great way to observe and experience physics. I love the fun in making unexpected choices and putting everyone on edge. I love the sculptural element. There are some ways you can play it either without rules or add more rules and make it more challenging.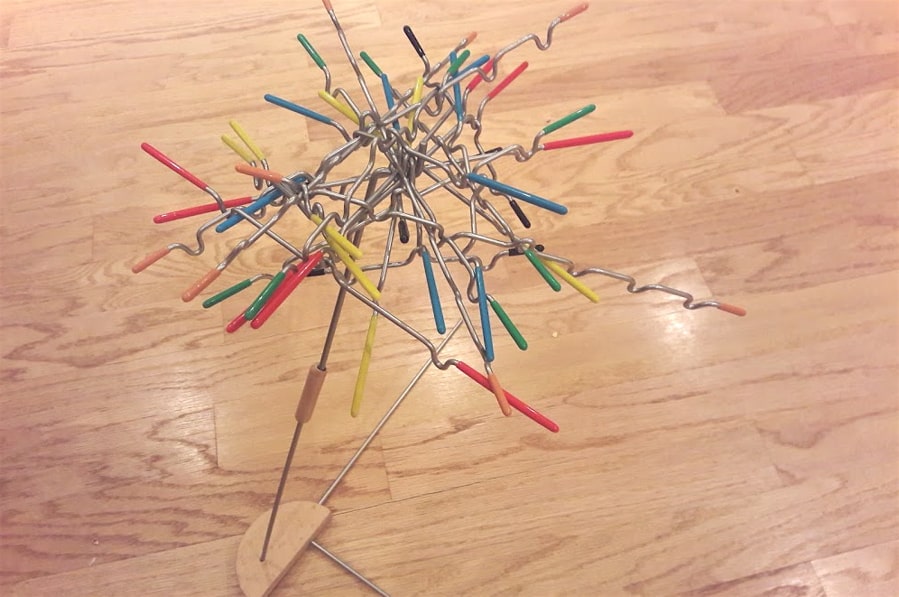 The link is for the one we have. I like this one because the balls have a nice weight to them, also they are very durable, they've lived in the backyard for long periods of time and they're in good condition. They're haevy but not super heavy, a kid can throw them no problem. Bocce is a fun game for adults and kids to play, it's a great way to practice estimating force, distance.
"This site is owned and operated by Barbara Valles. TrueJedis.com is a participant in the Amazon Services LLC Associates Program, an affiliate advertising program designed to provide a means for sites to earn advertising fees by advertising and linking to Amazon.com.  This site also participates in other affiliate programs and is compensated for referring traffic and business to these companies."