25 best child proofed crafts and activities for preschoolers and kindergarten age kids.
These activities are great for developing dexterity, discovering, and exposure to use different mediums and materials for future free play.
A lot of these activities are appropriate for 3 year olds and some like Music with Balloons and the Potpourri Satchels can involve a 2 year old. But the 4 to 6 year old range is the time that art and crafts are really interesting and empowering for little kids. Some of these activities require a lot of adult guidance the first time around but once they do it with an adult they gain the confidence to engage in them by themselves. While a lot of the activities are open ended play and experimentation.
When they are a little older, they may ask to do that activity again or, they may ask for the materials now that they know how to use them, and come up with variations or use the supplies for completely different applications. So in a way, Activities like these look cute and silly but they are a gateway for innovation.
Nature Paintings
See kids' creations above. We like to use a tray or box with compartments or just have the kids pile different elements they find individually so they don't get mixed in the tray. Once they have at least a few kinds of leaves, flowers, seeds, etc. they can sit and figure out how they can use the different elements to create a composition.
You will need a large piece of craft paper in their favorite color, and glue. This activity is great to do outdoors if the weather permits, and it is also a great group activity. Find a good working station where the kids can set their paper, glue and other materials.
Finally, we usually have some colorful glitter to sprinkle on at the end.
Rolled up Beeswax Candles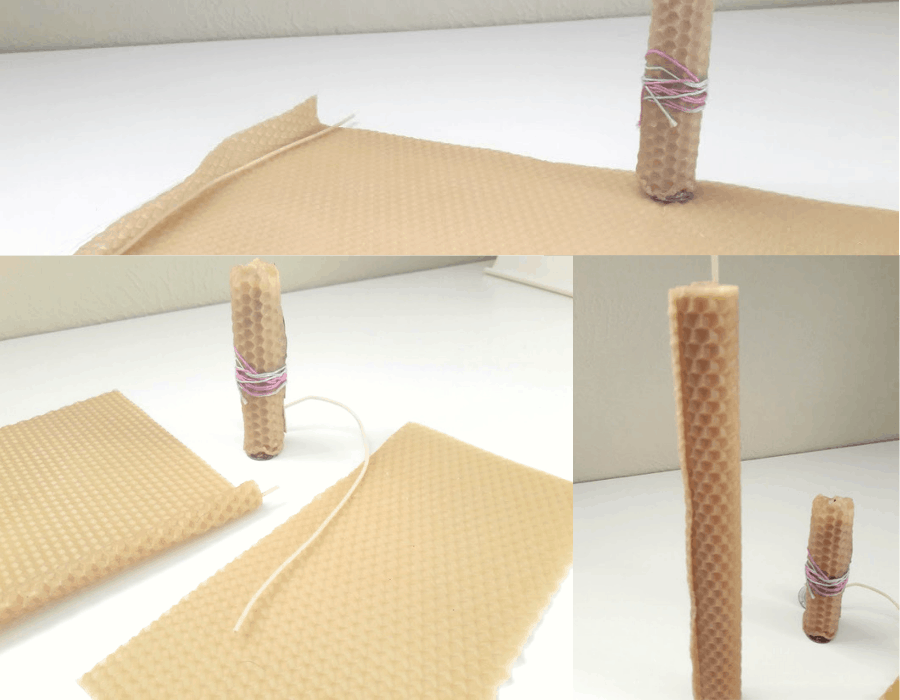 This simple way of making candles is easy and kids love lighting their candles and watching them burn. Or simply gifting them.
I get the sheets of beeswax, and wick from a local honey wholesaler.
Just give kids each a sheet of beeswax and set the wick towards the edge.
The beeswax smells wonderful.
Don't attempt to use string for this, it does require a wick.
Sun Catcher Planets
Materials (most can be found a the dollar store): cheap basket coffee filters, school glue, pie tray, spray bottle, dropper, water and liquid watercolors. Provide little cups with a few drops of water color diluted into a little water. Ask kids to put down a layer of coffee filters spread on the pie tray. Pick the color with the eye dropper and let soak into the paper. Spray a little water with the spray bottle and see the color burst. Add more colors, layers of coffee filters and as they add layers have them paint some glue over the layers to make sure the layers stay together. After two or three layers it let it dry in the sun or by a warm dry place. When dry peel off of the tray and hang on the window or keep making more and make your own planet system. This is a great activity for a Winter Solstice Party.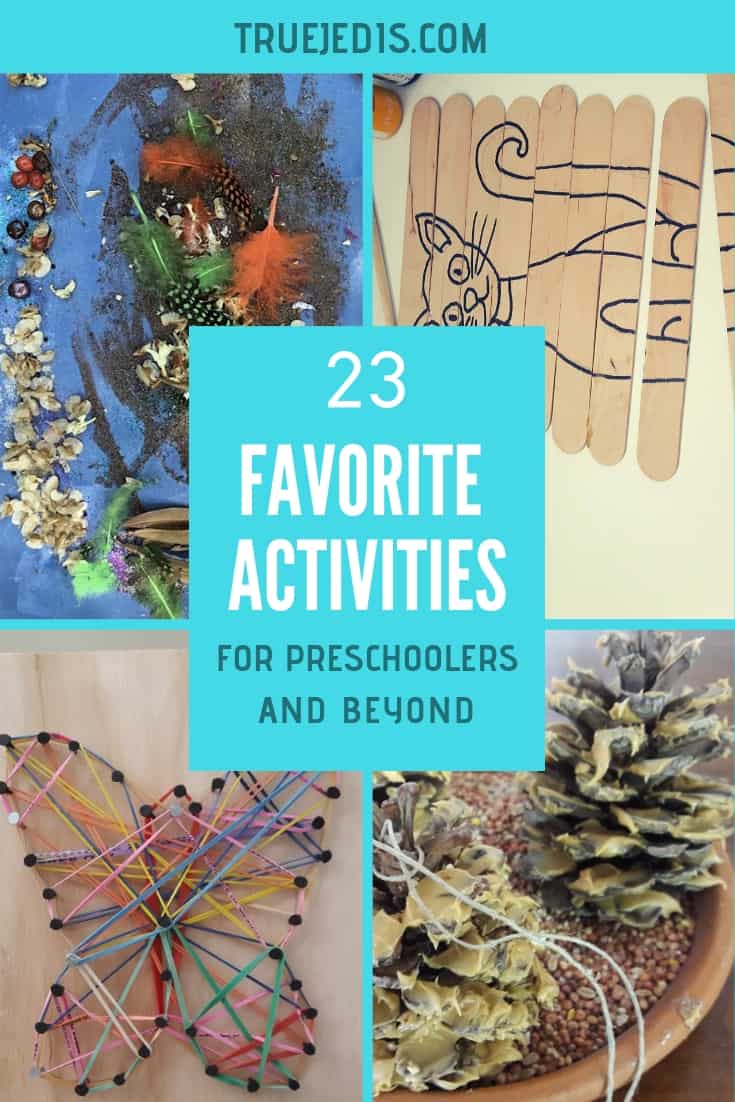 Potpourri Pouches
These are lovely little pillows that are very simple for a small child to make and they will love to use them, gift them or put them under their pillow and enjoy the delicious scent they have created themselves. You just need to lay out some herbs like lavender (which can be bought bulk at most health food supermarkets), chamomile, fennel, mint, rosemary, and some spices like bark cinnamon, old spice, star anise, and have the kids come up with their own mix as they smell and decide on what else to add to their scent mix. Once they have their mix, provide a little handful of barley as a filler and to make the pouch have more weigh. Cut out a piece of fabric about 8×8 inches and have the kids pour their mix into the fabric swatch.
Once they have their herb mixture in the swatch with the barley, they'll gather the fabric and make a little bundle which they can tie very tightly with a piece of yarn or ribbon.
Experiments
Baking soda, vinegar, water, droppers and liquid watercolors. Lay out these ingredients in cups and provide several extra cups or little containers. Better to set this up outside, but make sure it's a safe place, not too cold not too hot, where you can watch your child from the house because it will be hours!
Turn a Smiley Face Into a Día De Los Muertos Salt Dough Skull
See the video bellow too see the fun effect of turning a smilie face into a skull. Kids can do the dough mix by themselves with a little direction: mix 1 cup of flower, 1/2 cup of salt together, add a little bit of wanted and knead throughly until it turns into a dough. Divide the dough into meatball size balls and put away for the fun skull making activity. Once you have your skulls let dry overnight or put in the oven for 20 minutes and decorate. They can be turned into Halloween decorations, gifts, a necklace an ornament, etc.

Marshmallow constructions
Sure, everyone grows up with LEGO. But nowadays it's starting to sound like a vacuum. You wanna build something? Use LEGOs. You are creative? Here are some LEGOs. You want to play dolls? LEGO Friends. You lean towards programming? LEGO We Do! You lean towards engineering? Of course LEGO! P.S. the digital version of that is Minecraft. I don't think I need to tell any parent how much these "toys" cost.
I'll make it short and sweet: toothpicks and marshmallows. Cost? Depends on what they want to build but let's just say that $5 would go a long, long way.
Heads Up! They do dry hard, but they can attract ants. If you must keep one of these for a long time, take it outside and spray it Fixative link.
Craft stick puzzles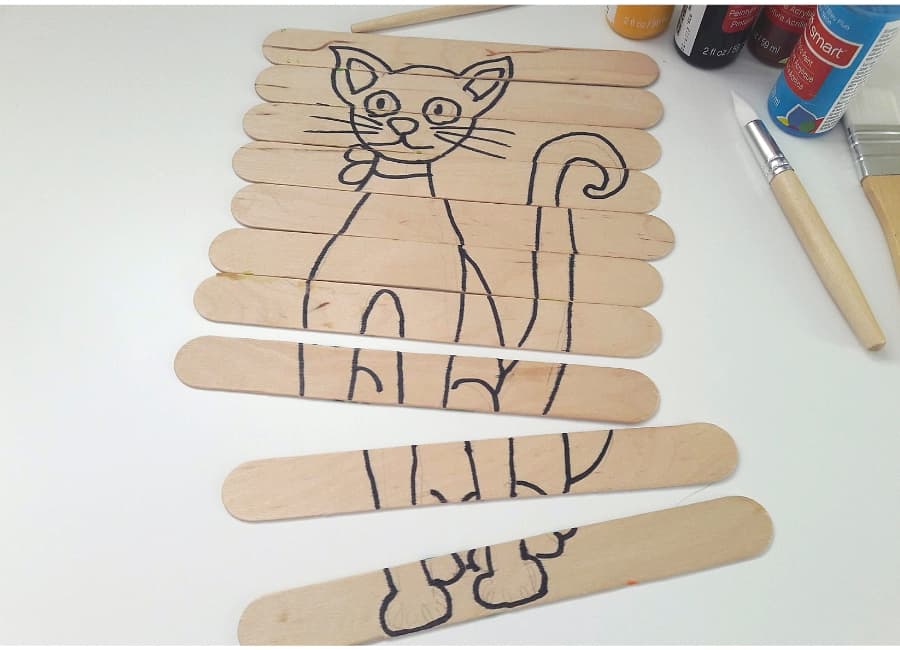 This fun activity requires that you help kids set their jumbo craft sticks on contact paper one after the other so they are aligned at the edges. The contact paper stops the sticks from moving aground. You can each make a painting, it could be a secret painting, let it dry and take it apart. Switch and each person has to put together the puzzle. Alternatively you can draw a shape and outline it with a thick sharpie, then kids can color it in with markers or paint and then play with the puzzle.
Music with balloons
Little kids love balloons: they are colorful, light and a little unpredictable. Turn on some music and throw the balloon up in the air each person can have a turn to see who can keep the balloon up without touching the ground, or it can be passed from person to person, or there can be more than one balloon. This is an open ended game that encompasses dance, coordination and fun. Sometimes the balloon pops!
The Nature Design Game
It goes like this: Each person gathers leaves, rocks, flowers, shells, sticks, etc. Looking for things to gather when going on a walk together makes the walk extra fun. Find a place to sit and play the game. Each person will have his own set of elements for the game. Each person takes turns to lay down a set of elements in any order or pattern they want, the next person has to build on the design in any way he or she wants, and so on until everyone has run out of elements and the end result is a nature mandala or another design.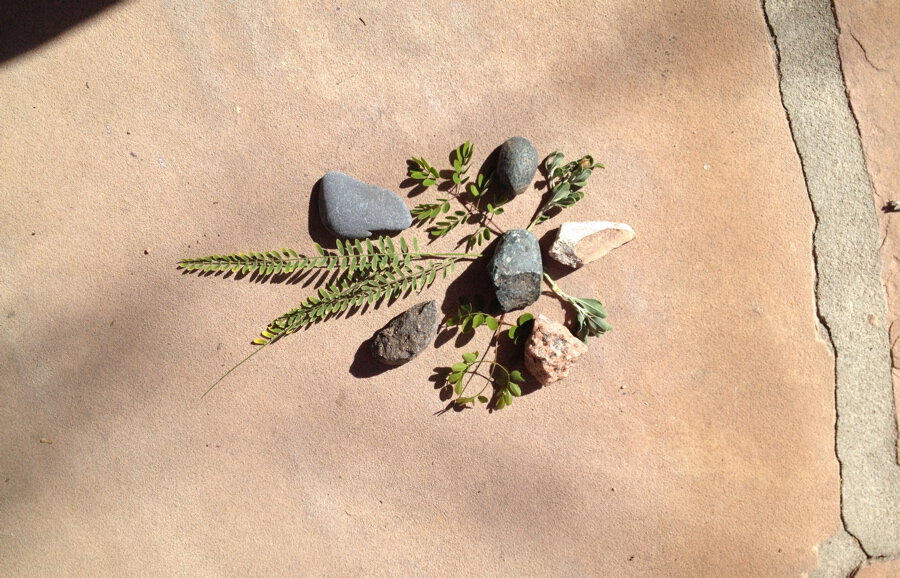 Treasures trapped in ice
Good for summer fun. Take it to the park or play in the backyard. Just find little trinkets, animals, glitter, gems, etc and put them in containers with water. Freeze and ask the kids to find ways to get it out: they can chisel, pour warm water, use salt…You can make this a theme activity like pirates, sea theme, princess, bugs, etc.
Dream catchers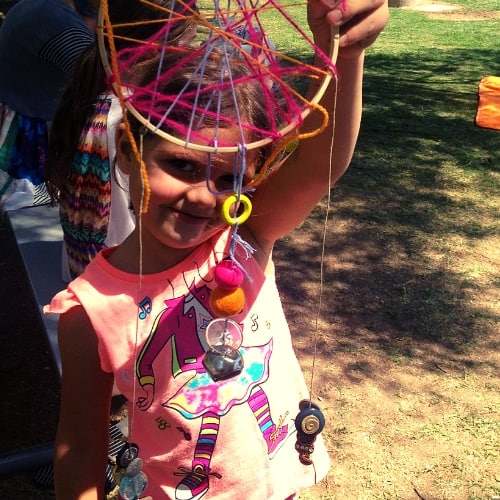 Materials: A loop or embroidery hoop (I know, what is that and where do I find it…here is a nice set. Yarn, buttons, shells, beads, feathers, any interesting object your child has and would like to turn into s special charm -could be a sea shell, a bone, a rock, a trinket…Dream catchers are said to trap bad dreams and we all could use something to guard off bad dreams when we are little. Have them wrap the yarn around the loop and chose whatever colors they want. They can even get very fancy and weave in a few beads. Then make a charm and tie it to a string. Tie the string to the bottom of the loop so it hangs about a food from the loop. Tie a string on each side of the middle one and decorate with beads, buttons, shells, feathers. Whatever element they want to use. That's it.
Sewing
Little kids can learn to sew but it has to have a purpose. The toys that come with a shoe lace and a shape with holes in them are great to understand the in one hole and out the other mechanism for a very young child. But most people, including kids, like to have a reason for sewing. If you know someone that knows how to knit, ask them to make you a few swatches (about 6×8 inch little pieces of knitting) with any stitch or color or type of yarn. Anything they have handy. Provide these along with a yarn needle (they make them plastic too link) and a piece of yarn. Tie a thick bow at the end of the yarn and ask them to thread the needle. Then show them how to put in the needle in and bring it back out the other side all along the edges of the two swatches.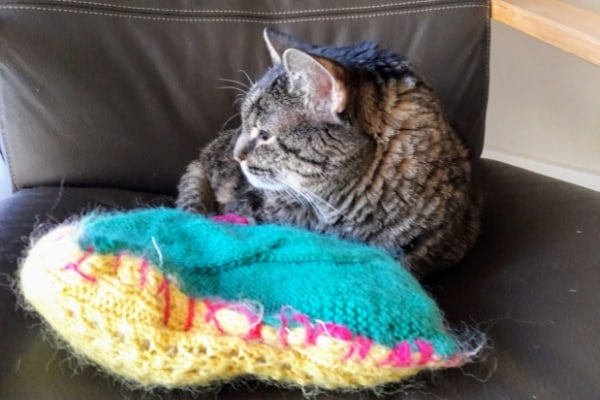 The knitted swatches makes it easy for kids to put in the needle and see how their sewing looks. They can make a bag by sewing only three side and tying a ribbon to the other two contents. They can fill it with pillow filling or extra yarn or scrap fabric and make a pillow. If they are old enough they can sew the other side once they've filled it. If they are very little they can just tie the top with another piece of yarn. They can make a hat. They San make a sleeping bag for their doll, they may call it something else.
Contact paper fun
You can buy contact paper at the dollar store. If you want a larger roll you can find it at a craft store. Anything can stick to this plastic. So kids can go gather dried flowers, leaves, yarn, anything that can lay more or less flat on the plastic. You can help them cover it up with another piece of contact paper to sandwich the objects inside and hang it on a window or make decorations for Halloween, Christmas…anything goes.
String art
This activity requires some dexterity. Provide a board or sample laminate from the hardware store. Some small nails with wide heads, colorful string, and maybe 3ven some paper or plastic flowers. The kids can draw the shape and hammer in the mails themselves, or you can draw a simple shape and set the nails about half an inch apart. All the kids need to do at that point is loop the string back and forth in any pattern or direction they want until the entire inside of the shape is covered with string. Stick some fake flowers on it and hung on the wall.
Alternatively for young kids that prefer to do it by themselves this one works very nicely because the nails are easier to hammer in and it uses rubber bands instead of string: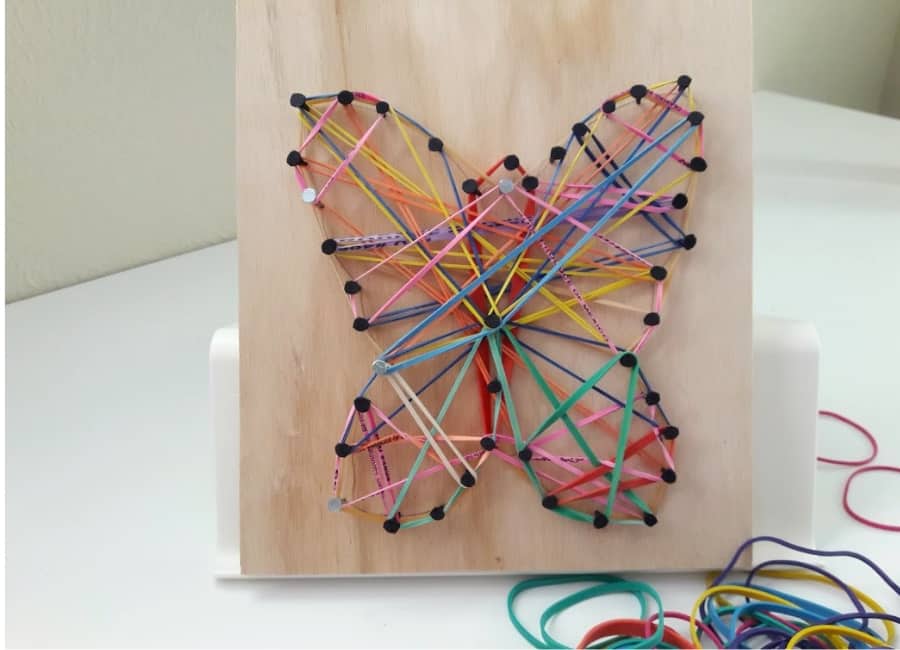 Mud bricks
Requires mud, dried leaves and straw like stuff and water. Whether you do this one while camping, or you have an area in the backyard designated for mud kitchens etc this activities provides the fun and satisfaction of playing with mud, with building and creating some shelter for small animals, action figures, fairies, etc. Mix mud with some dried up bits of dried grass. Shape into a brick no more than two or three inches by one inch.
Mud Snakes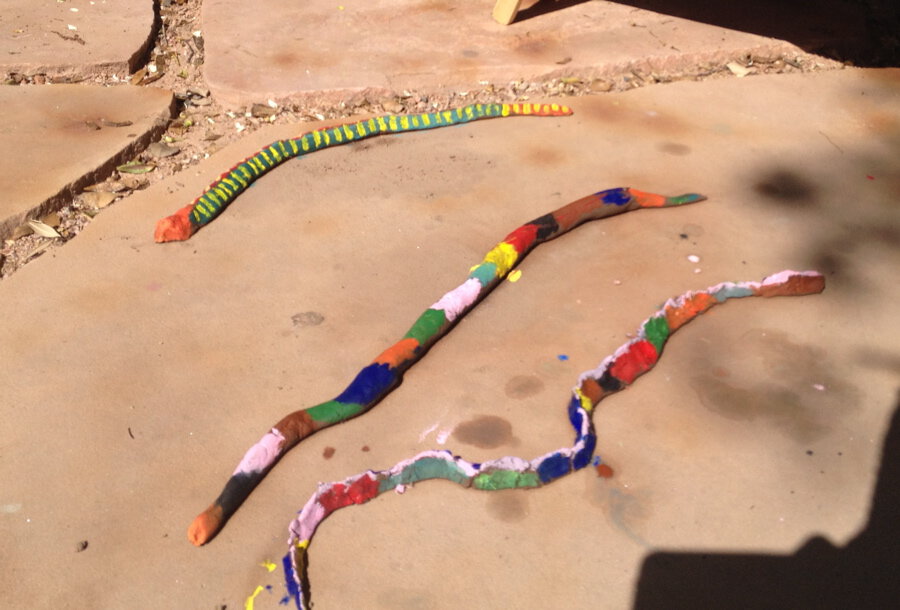 With the same material as above form snakes, let them dry in the sun and color them with tempera or acrylic paints. Fun!
Create art with nature – Dried leaves, dried flowers, seeds, sand, anything goes with nature art. Bring a large piece of craft paper in their favorite color, and glue. This activity is great to do outdoors if the weather permits, and it is also a great group activity. Find a good working station where the kids can set their paper, glue and other materials. They need to walk around the area and find anything that gets their attention and that they would like to use in their art work. We like to use a tray or box with compartments or just have the kids pile different elements they find individually so they don't get mixed in the tray. Once they have at least a few kinds of leaves, flowers, seeds, etc. they can sit and figure out how they can use the different elements to create a composition. Finally, we usually have some colorful glitter to sprinkle on at the end.
Paint rocks and tiles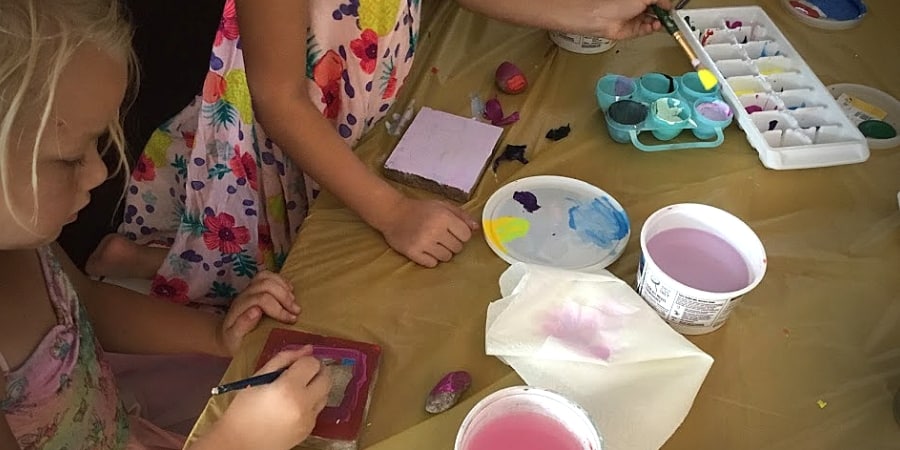 Preschoolers can do anything with paint. Painting rocks is fun if you have metallic paint and they can make the rocks look like they are gold or silver. Kids will treasure these as if they were a precious treasure. My child used to keep them in her treasure box. 
Painting clay or concrete tiles is very inexpensive and kids rejoice in having turned an otherwise boring and ugly square into a colorful work of art that can have a use around the house such as: a door stopper, a coaster for a hot mug, a paper weight…
Pine Cone Bird Feeders
I love them, kids love them, everybody loves these simple bird feeders. They are easy to make, and it is so fun to see the birds take advantage of this special treat.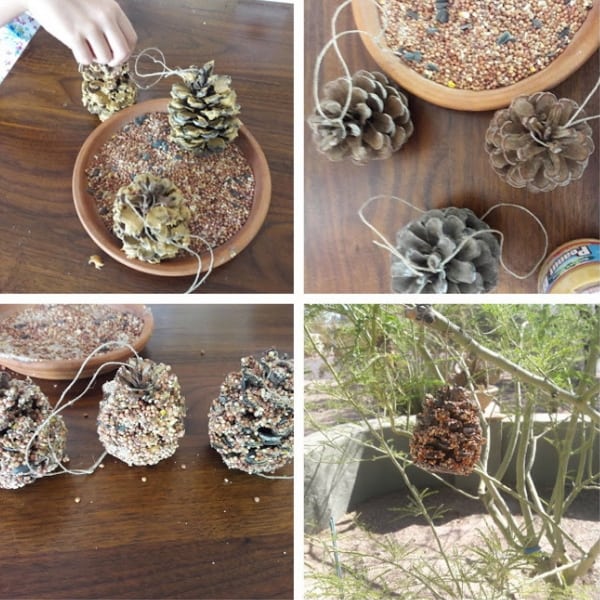 The instructions are simple: gather some pine cones, tie a string around the top, spread peanut butter or any almond butter in and around all over the cone, take a handful of bird feed and cover the entire area with bird feed. Hung from a tree branch or porch and watch the different types of birds come to peck at them. 
Salt Dough Cupcakes
Use the same recipe for these as for the Día de Los Muertos Skulls. Give kids all the ingredients to mix the dough and a few bowls to make different colors and shades with liquid watercolors. Provide little cuts with a couple of drops of watercolor paint in a bit of water and eye droppers they can use to add color as they see fit. 
We had a cupcake contest to see who made the best cupcake and had dad be the jury.
Gift Wrapping
Preschoolers love to help, but mostly they enjoy gifting. Gift wrapping can be messy and awkward if you have little hands and just developing the coordination to hold the paper in place, while you fold it and tape it.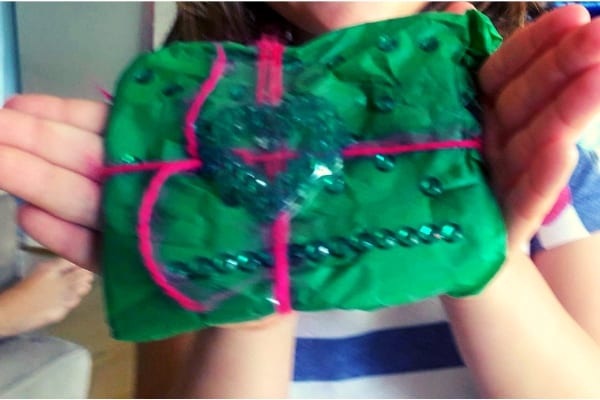 So I like to have gift tissue around. It's light and almost malleable so that little hands can easily wrap, hold, tape, and they can go through a lot of trial an error as most of it is recycled from gift bags. I have yarn, and other trinkets in the supplies closet that they can use as they see fit. 
We save it from gifts, and I buy it in fun colors and patterns. It's easy to manipulate than wrapping paper and kids are confident that they are using a paper that is used for gifts. 
Bath bombs
This is a step up from Experiments. Here is what we use in order:
Baking soda
Corn starch
Citric Acid (we have links for a lot of these supplies in Absolutely Must Have Supplies)
Little bit of almond oil or coconut oil
A couple of drops of essential oil like mint, jasmine…They can chose the scent.
A drop of food coloring
A tiny bit of water
Have them mix it all in a bowl and kneed it with their hands, then pack it into plastic Easter eggs. Let dry for a few hours and they are ready to hatch!
Pine cones and dried leaves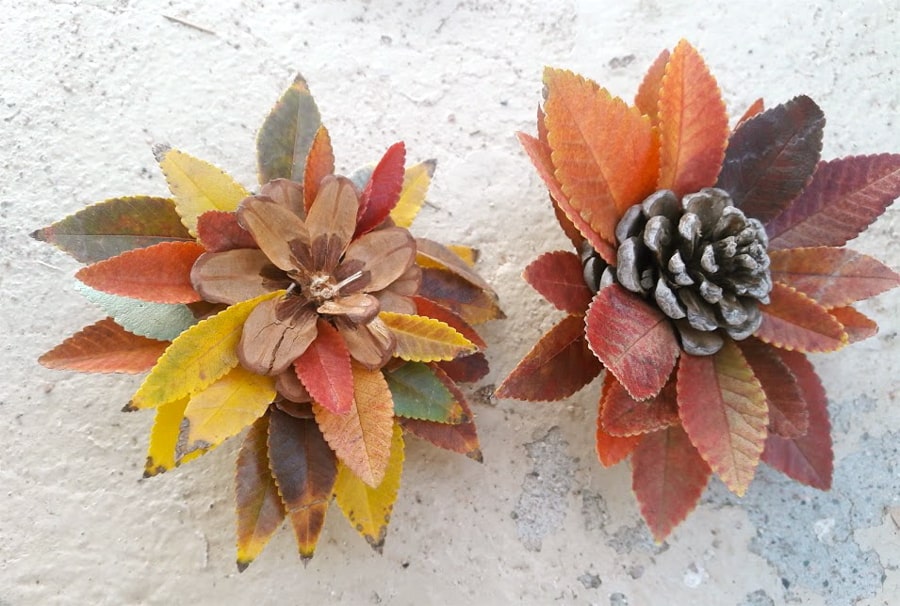 This activity is yet another way to appreciate all the things you can do with nature. We came up with this when we were at the park one day and there were pine cones laying around, and beautiful leaves everywhere. We decided to go around looking for pretty colored leaves to insert in the pine cones. It is a calming activity and requires focus and design decisions. It is very easy. If you want to use glue to make them permanent just dip the tips of the leaves into glue.
Ice chalk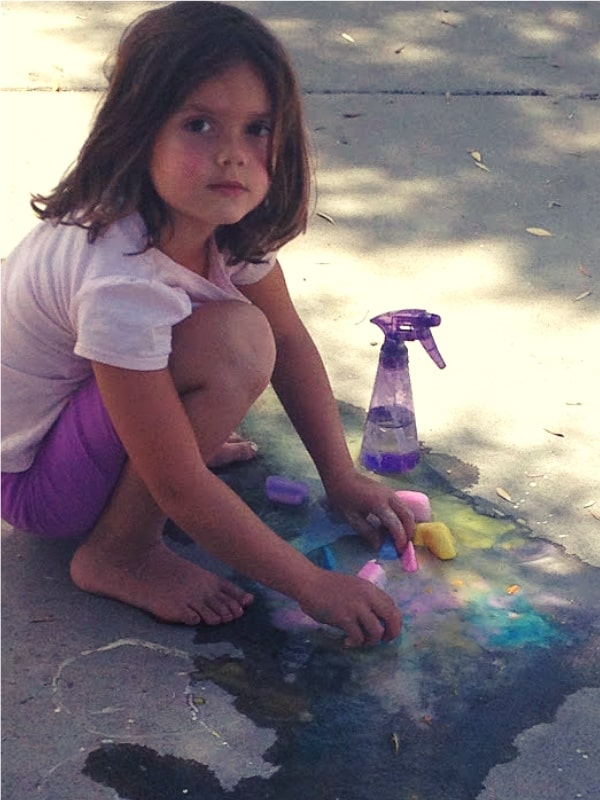 This is an activity that I found while looking for activities for a group of preschoolers. You can do this one on the driveway. It requires to do some prepping work at least a day in advance. You will need: corn start, baking soda, liquid watercolors and water. For each color mix equal parts of cornstarch and baking soda and water, add the color. Stir and pour in an ice tray. Kids will need a spray bottle filled with cleaning vinegar. All they have to do is play with the ice chalk on a warm surface like the driveway or at the park and let the chalk melt as they draw with it and watch it sizzle when they spray vinegar on it. The cool thing about this is making very intense colored chalk and seeing it blend with the other colors.
Yarn Bowl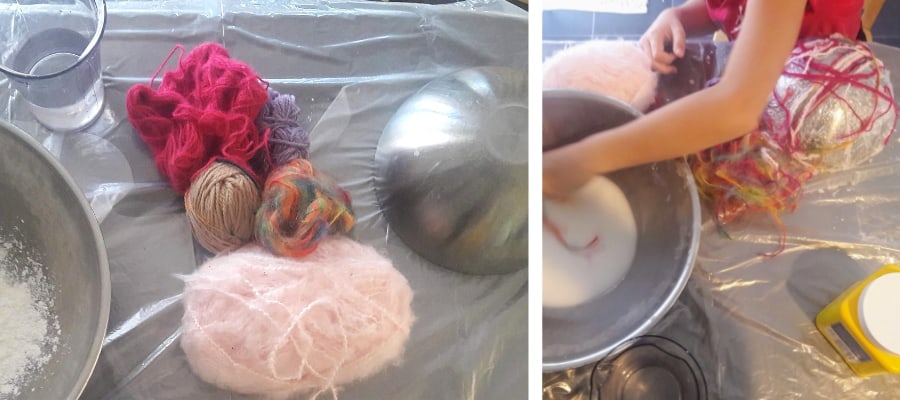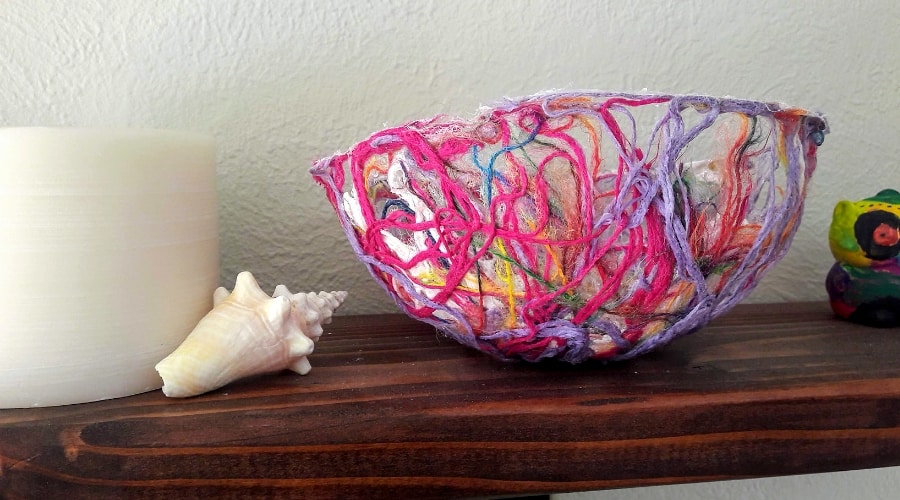 (I have put together a list of must have supplies under our Recommendations. Liquid water colors have worked amazingly well for us, jumbo craft sticks, foam board…these are absolute must haves.)
And I can't emphasize enough that these activities are not about the result but the process. So it's ok if it's not perfect. The importance is on experience and exposure: once the brain is exposed to the material application of these supplies, as long as it's in a positive way, the child will develop and discover ways and processes of working with these materials and in the long run these will become resources to solve practical applications to their daily play.
Here are a couple of examples with our kid. I went to the trouble for our daughter's 6th birthday to put together a string art kit activity for all the kids to take home. Not only did I have to gather fake manufactured flowers and small laminate boards for each child but I drew the shape of a vase on each board and had to hammer nails around the shape so the kids could string the roll of colorful string I had provided. Every girl loved doing this activity and hung it in their house. Their moms sent me pictures of their finished product and said how much they loved this activity.
My daughter refused to do hers. I left it in a cabinet and decided to wait a few months. Still she made it quite clear she didn't have an interest in it and instead wanted to gift it to a friend.
Almost a year had gone by, when having a play date with a few kids at our house, our daughter decided to propose the string art activity. She found a piece of wood, nails, and a hammer and asked me for colorful string. Not only did she make the activity from scratch by drawing her own shape and hammering in the nails herself, but she set an example for the little ones who also began to hammer in nails and begin their own string art project.
Another instance was when we got foam board to make a garage for the dolls house. Once our daughter had become acquainted with the materials she went on her own tangent and a year or so latter whenever she needs an addition to her doll houses, she'll grab a roll of masking tape, some tiny nails and always has foam board on hand to make stuff: a car, a house, a doctor's office, a vet, a wheelchair! Etc.[/vc_column_text][/vc_column][/vc_row]