Books We Love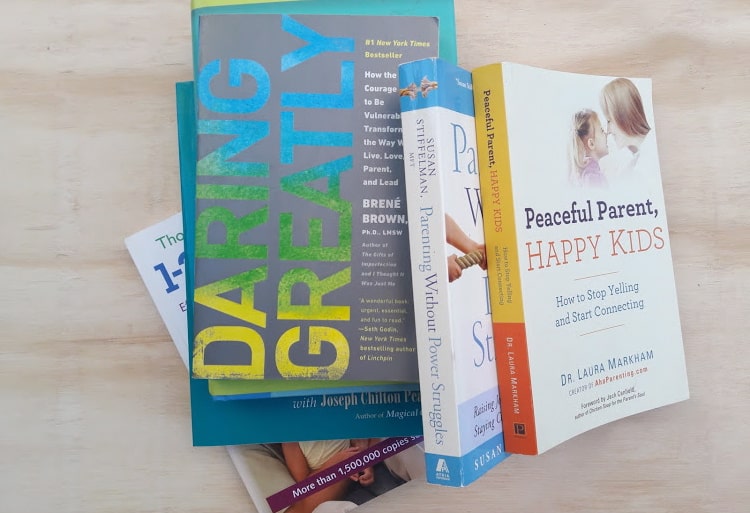 A friend of mine was just telling me that his mom says that him and his wife should get their soon to be 3 year old son to start sleeping by himself in his own room. People tell you all these things you need to do from their infinite wisdom…
At one point I wanted to educate myself on this stuff, so I read so many child development books, articles, and parenting books that I realized that 1) some books were very good, and other books gave some not so good advice 2) I was going to start listening to the experts and stop listening to the people who had raised kids but didn't have the resources that we have nowadays to become better parents, also there was no scientific studies and date that corroborated what moms kind of know instinctively, but many may call: over-nurturing, spoiling, permissive.
Furthermore if I had believed everything I was told and everything I read up until my daughter was two about parenting I may not be homeschooling today. I would have bought into the mindset that we have to let babies cry it out in order to help them develop independence. Not sure why a baby needs to be independent…I read that I shouldn't breast feed her to sleep, and that I should put her on the crib before she fell sleep in order to teach her to fall sleep by herself on the crib. When she was 5 months old I went rogue and would let her fall sleep while she fed and would hold her in my arms while she napped just because it felt good, and right.
Then, when my daughter was almost 3 years old, a dear friend of mine who is a child therapists recommended me a book by John Gottman, this book turned my life around as a parent, I realized that my instincts as a mom were right. That my child wasn't trying to manipulate us. She just wants and needs to connect at every stage.
This book makes the top of my list because the author was a pioneer in this research and started gathering data over 50 years ago, and following up ever since. So many authors have piggybacked on his research.
When my daughter had just turned three we walked into a store and she saw a Hello Kitty suitcase that she really wanted. I told her she had to put it back and that Santa would bring it in a couple of weeks (it was December). Then, she did something she had never done before: she broke down and started crying in the highest pitch possible for a 3 year old, i immediately picked her up and took her to the car and sat with her in the back seat. After a minute, my husband got out of the car and told be to quiet her because he couldn't be in the car with that kind of crying and after all "how long was it going to go on for!"
I remembered this book I was reading and I wanted to empathize. But that I've I had to deal with my husband, so while I sat with her holding her hand, I told my husband that it was natural for her to be feeling this way "Don't you remember being little and wanting something and not being able to have it? I remember feeling very disappointed and exactly the way she feels right now!"
At that moment, my daughter straightened up and looked at me like: WOW, YOU REALLY UNDERSTAND WHAT I'M FEELING, threw herself in my arms and we held each other like that. That was it. She understood I that could really empathize with her.
Daring Greatly is a revolutionary book that everyone should read. It is good for men, women, parents, young adults…I also, reading it, got perspective on how much ego I may be putting into parenting and homeschooling.
But more importantly, you realize that some of our own experience should not ever passed down to our kids. It is not about just one thing that I can bundle up in a nutshell. I can talk about one or two takeaways but I can't possibly do justice to this book no matter what I say.
This book should be in every hotel room bedside table. Please read this book.
This is the best parenting book I have ever read. You might get the sense in reading between the lines that this has to be a book for homeschool families, and turns out the author homeschooled her son until he was older.
The author explains things in a way that we can understand, and gives advice on how to handle the many different types of curb balls kids through at us through the years. I have referred to this book already a couple of times, and will probably refer back again another outlet of times. Although, if you practice Mindful are pretty much doing exactly what this book advocates for.
I think the most important thing I got out of it was becoming more relaxed about parenting. Once you do the exercise with her about "why shouldn't my child….(do this thing I don't want him to do, or do something I think is wrong, etc)" it becomes second nature and you can immediately switch back to relating and connecting vs. being critical and judgy. It also allows you to pick your battles, so to speak.
I loved reading this book at a time of my life when k needed it for work. But, it has always stayed with me.
It has some tips about communication. A lot of the communication tips apply to being a parent. For example, if you tell someone at work "you need to finish this task by tomorrow", you will likely piss him off. If you tell a kid the same sentence, you will likely piss him off. The book doesn't explain it quite like that…
Likewise, when we use certain terms, such as "I feel like…" to express what you think, it sounds flaky and it is grammatically incorrect, and inaccurate. Kids hear this term a lot, even if you don't talk this way, they hear it in their videos, friends, etc. but it is important to read this book if only to learn a very easy and clear way to explain why not to talk a certain way, and can say instead.
This book is a must read as a parent who has taken charge of his kids' education. It helps to put things in perspective: to see what is really important to aim for, how to get there, in short to teach kids to pursue their own dreams and goals to figure out their purpose.
When you read this book it is a little grim and alarming…BUT, I think if any kids in our society have a chance, if we play our cards right, are homeschool kids.
This is a must for all parents but it makes the most sense for those of us who have chosen the path of homeschooling. The author makes a resonating point about how peers can become a very important influence in children's lives, and how parents should be the main influence.
I found this book useful because for a while I found it very difficult not to yell. I was getting lots of migraines and was not in a good place, as a result, my level of patience was very low. I also found that my husband wasn't being helpful. I felt maxed out and would end up yelling at my daughter in order to squash a behavior. Often, I lashed out at my husband in desperation.
The author of this book had mediated communication in the most difficult diplomatic disagreements. It is extremely difficult to apply all the concepts to your daily life but it is worth the read because some of the strategies he suggests are possible.
This book is based on John Gottman's research and continues that research. Also, it gives lots of clear examples about how to deal with different situations. It is a definite must read. You probably already know about it because the author has popularized "Peaceful Parenting".