For Dads That Have Everything
These gifts are amazing. Not only are they original so that no other dad will have the same, but they are very cool and hip items.
1. Painted Leather Coasters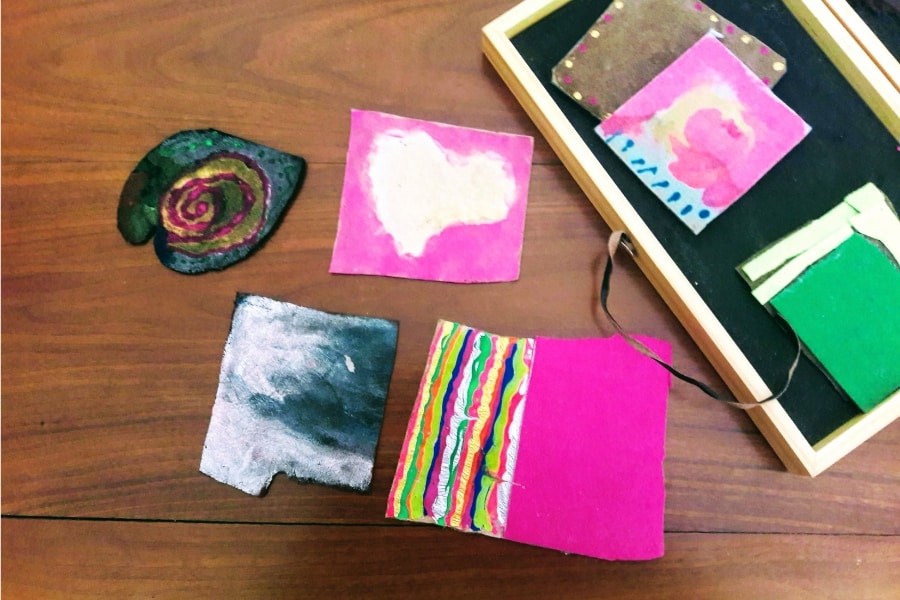 Very cool and classy! You just need some scraps of leather. Cut them in squares about 3×3 inches. Don't worry if your kids can't get a perfect straight line or right angle, at the end it works out well when the shapes are uneven. They don't need to all be perfect squares.
We use acrylic paint and I love to have some metallic colors in hand too.
I like the squirt paints from IKEA that come in neon colors as well as gold and metallic gray. Kids can make lines with this kind of paint, or they can spread the paint with their finger or use a brush. So there are different textures to work with. Here are some examples. In one of the coasters the child made a series of lines right up against each other and decide to glue a piece of felt on the other side. I love the German abstract-modern look of this coaster, while another one has the feel of the abstract expressionists painters.
Sometimes you can find scraps of leather at a by the pound fabric store, which is what we do. I did a little research and found some online. See our Must Have Supplies for a link.
We got basically that and always seem to have some bits of leather around for any gifts like the coasters, key-chains, a charm, etc.
Also, I like to provide some colorful felt. It was at times used to add more warmth to the leather and other times it seemed to complement the design. Although kids used a different vocabulary to describe their choices.
To make it extra special we found a nice flat wooden box at the thrift store with a leather closure! Perfect!
2. A Mouse Pad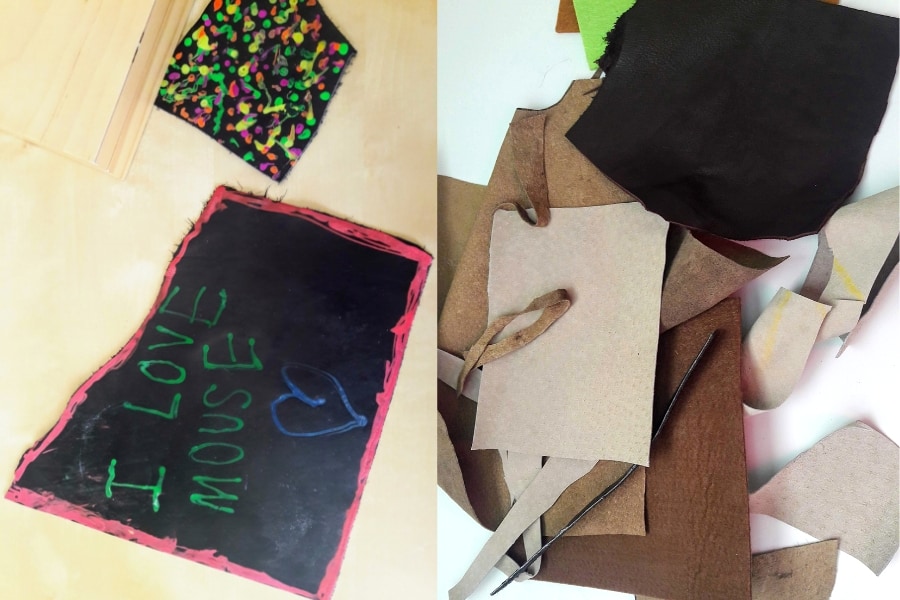 Dad had a very old and sad neoprene mouse pad that had seen better days. This special Leather Mouse Pad was crafted and customized with a lot of love…He has been using it for a couple of years and loves it. And this is a guy who spends 8 to 10 hours seating at his computer for work!
This Mouse Pad goes very well with the Leather Coasters. But the design doesn't necessarily need to match the coasters.
Let kids decide on the shape but guide them to cut out a more or less 9 inch by 9 inch piece of leather. They can paint, write or decorate in any way, though this time it should not have any texture.
I like to glue another piece of felt about the same size on the other side but it's not required.
3. Garden In A Pot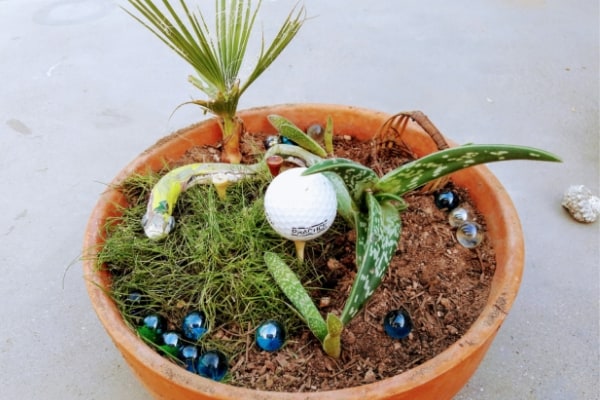 The idea came from a nice little workshop at the botanical garden where kids make fairy gardens. But while dad may not be really inclined to keeping a fairy garden, he will love a pot with baby plants and a few interesting decorative items.
Our daughter was four years old the first time she gave him a garden in a pot. She was able to do everything. Including planting and decorating the garden. That was four years ago! I wish I had taken a picture of the original garden in a pot for Father's day. But this is what it looks like now!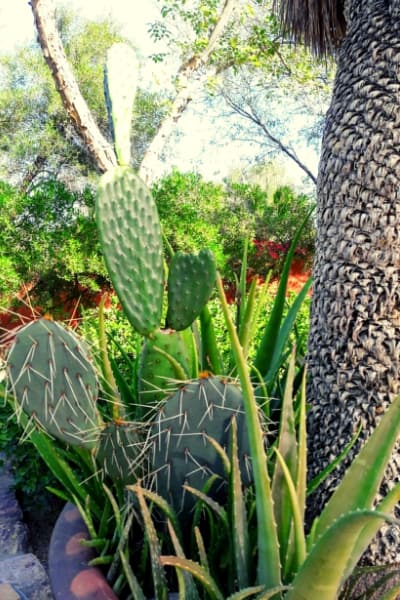 If you can believe it, that big cactus that stands tall was two inches high when she planted it in the original pot that we gave to dad. When it outgrew it's original pot we put it in much larger pot. The aloe vera you see there, was a little about three inches long, and the other small cactus with the big thorns you see in the picture, well, that one was less than an inch!
Cactus and succulents are perfect for kids to plant and gift. But beware of how fast they grow!
It's sad when kids plant something that takes a lot of effort to keep alive and it just doesn't make it. Succulents are easy to plant since they don't have long roots. Succulents are happy with very little water. There are so many different kinds and make a very decorative garden. Cactus are also wonderful, as long as the kids are careful not to touch their face after handling them and wear gloves, they are easy to plant. They are happy with no water or little water and grow no matter what. Cactus love to grow in the company of aloe and aloe loves to be around cacti also. Aloe is the same as succulents, but I will talk about it separately because it can grow a lot and it has pups or babies as we call it. So, you do have to have a place to put all these plants once they outgrow their little pot.
You can plant two or three baby plants in a shallow pot that a kid can handle easily. And in between it can be decorated with shells, pebbles, even colored glass from the dollar or craft store or kids can paint rocks for added appeal.
Dad can put this in his office, or just keep outside. What is nice about this gift is that you can always look back to that Father's Day and see how everything has grown…the kids, the plants, even us as parents.
4. Peppermint-Eucalyptus Shower Scrub
The peppermint gives a sense of coolness when used in the hot shower, and the eucalyptus helps open up the sinuses. We use:
A mason jar with one cup of Epson Salt.
A tablespoon of almond oil.
A few drops of Peppermint essential oil
A couple of drops of Eucalyptus essential oil.
Kids love to mix the ingredients in a bowl and pour it into the mason jar. You may encourage them to embellish the jar with a label for Dad. Provide different "provocations" for kids to create a presentation of their own: A heart, a piece of yarn, a sticker, tape, a marker, a branch or rosemary…
I don't know any homeschool mom that doesn't have essential oils in her house, but in case you have never gotten any, here is a link.
5. Rolled-Up Beeswax Candles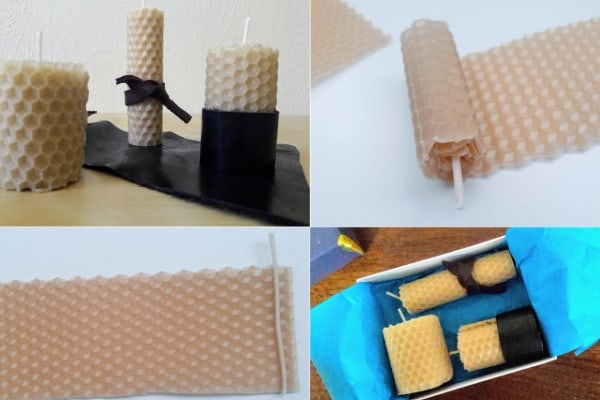 These tasteful candles smell like beautiful natural beeswax. They are very easy to make and the supplies can be obtained online or at your local honey store or candle making store.
All you need is one or two sheets of natural unscented wax. Wick.
You can cut the wax sheet in ways that will make small short candles, or use the whole length to make tall candles. Either way, each sheet can be cut in half for two full length candles.
I usually make cut them so they are easy for little hands. When the kids have done this before, they may be more comfortable making them a little bigger.
Once you've decided the sizes and height of the candles, measure the wick to the height of the candles plus about half an inch more.
Set the wick at the edge of the wax sheet with one end flush to the bottom and the other sticking out passed the top.
Start rolling the wax with the wick inside. Kids may want to squish it too hard or roll it too lose. The challenge is to guide them to roll evenly and once they are done rolling, to not squish them.
A candle holder can be added for extra fun. It can be made out of salt dough or clay.
6. Wine Glass Charms
These are beautiful gits for mom or dad. Our daughter made these for her dad who is a wine enthusiast. But I think moms would love these, too.
All it is needed is beading supplies: small pliers to bend wire and cut wire, 18 gauge or thinner stainless steel wire, or nickle free wire, and beads…charms…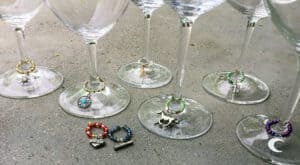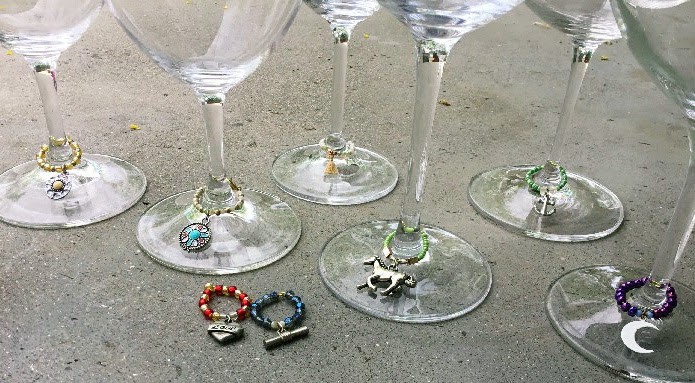 7. Yarn Bowl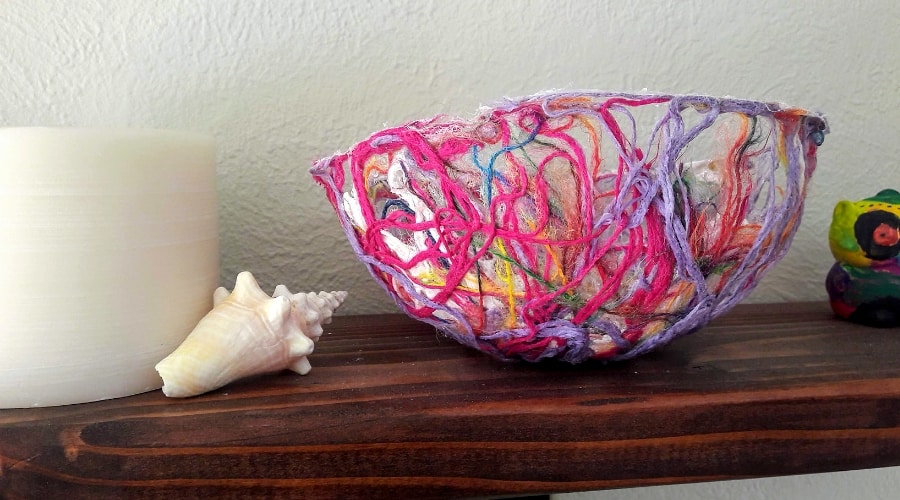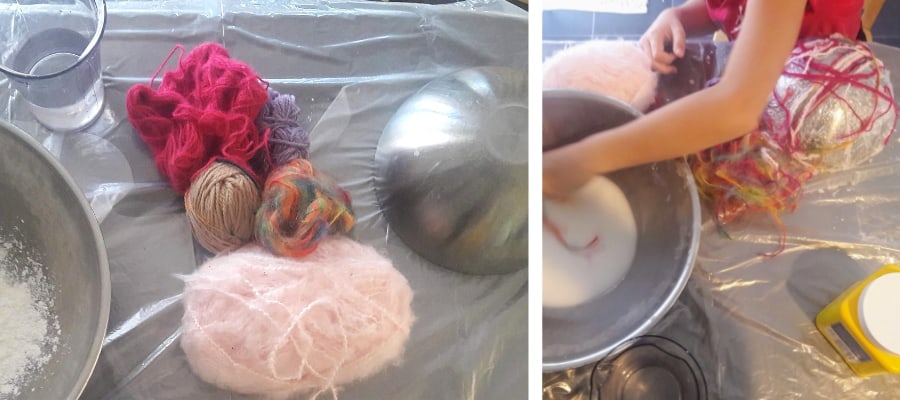 This is a decorative bowl and a very simple craft that is messy, colorful, and fun to make.
Supplies:
Different colors and textures of yarn
A metal bowl turned upside down and covered with plastic wrap
A mixture of warm water and corn starch
Spray bottle with water, white glue squirt bottle
Mix the corn starch and warm water in a large bowl. Ask your kids to cut pieces of yarn or if the they are young you can provide the yarn cut for them to soak into the mixture and start covering the bowl with yarn. Keep going until all the sides are covered. Set to dry or leave out in the sun. When it's dry, take the spray bottle and spray all over, specially the areas that didn't stick, pour the while glue all over and dab with a paint brush until the yarn is all wet and covered with the glue and padded down. When it's completely dry take out of the mold.
8. Raw Truffles
These delicious truffles are so easy to make and kids can get creative with the ingredients:
Chocolate: Almond meal, cacao powder, honey, butter, vanilla extract or orange zest.
Lemon Coconut: We mush cashews inside a baggie, mix with lemon zest, coconut oil, and roll them in shreded coconut. Yum!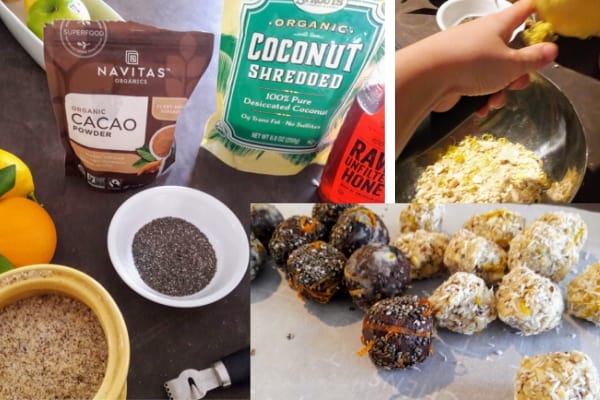 Mix ingredients until you have an even paste with which to shape balls about no bigger than an inch in diameter. You can roll them in confectioners sugar, grated coconut or crushed hazelnuts or walnuts.
There are variations that we had made and my husband favorites are the ones that had some orange zest added to the mix.
We have also made variations that contained a little brandy and dried cherries.
These delicious truffles should be refrigerated because they are raw.
Lay a sheet of parchment paper on a tray and let them become more firm in the fridge.
Find a nice box or container to present to dad.
Note: because these are raw, kids need to wash their hands and rinse thoroughly, and fingers off nose and mouth!
Also, keep them in the fridge.
9. Sleep-Mask
Supplies: soft felt, glue gun, elastic strap.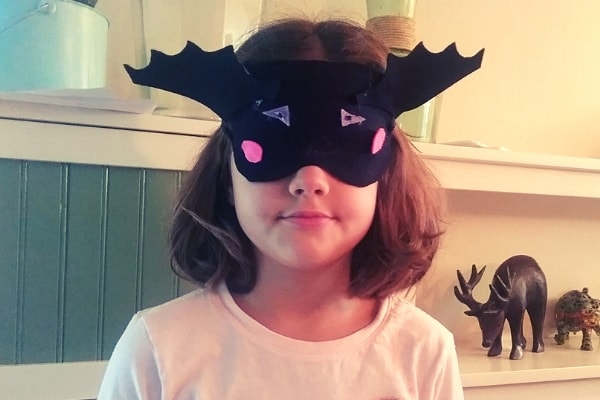 If it's too hard for the child you can cut out the shape of the mask. And provide a hot glue gun and pieces of felt. They can tie an elastic on each end of the mask by making a tiny cut at each end of the mask.
Kids can get very carried away with the shapes and theme of the mask. And may want to make more than one. My daughter got so carried away once that she ended up selling them. She had: Unicorns, bunnies, bat masks, turtle masks, etc, etc.
10. Book-End or Door Stopper
A large river rock can be painted in vibrant colors and some metallic for extra WOW factor. This very simple gift can be easily made by little kids and make a BIG impression.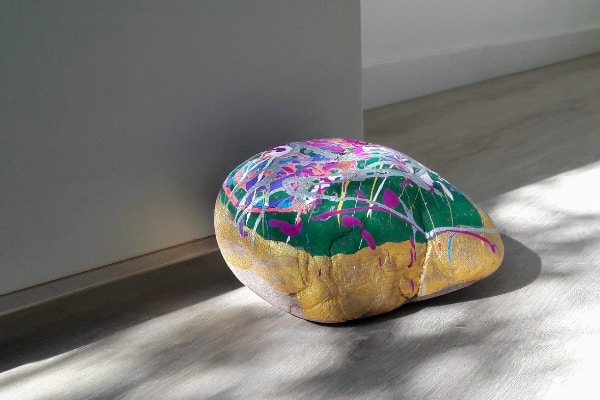 It is a good idea to take a piece of felt and glue it to the bottom so as to not scratch the floor or shelf.
Dad loves the one Katherine made as a gift for his brand new detached office.