A Guide for Kids to Find a Love for Cooking
My mom is an amazing cook. Probably the best cook a lot of people have ever met. It just so happens that my mom is also an Artist. She is a painter but the woman can draw, sculpt, she's a gifted writer and can do anything that involves creativity. So it's no wonder that when I was growing up, my mom would often make up dishes by combining ingredients in such a way that made for a delicious dish -she would say, "I'm glad you like it but enjoy because I can't replicate it, I made it up and next time I won't remember what I put in it". She was always busy trying to finish a painting which she put off to make dinner and feed her four kids and husband. Of course we also could never find a pencil or a notebook in a house where an artist lived, this was the irony in my house. So what with being busy, and not being able to find pencil and paper she never got to writing down what she'd done. Well, if nothing else, this way of eating is the inspiration for this cooking guide.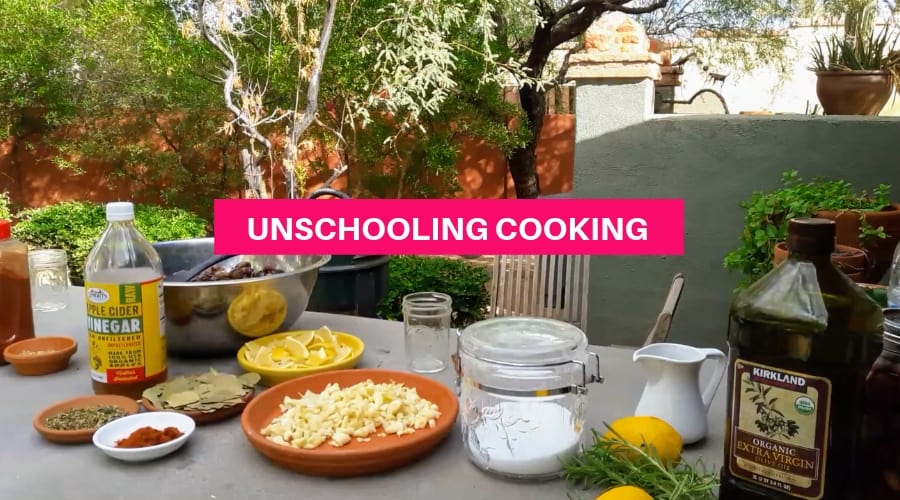 If there is anything we can and often must do on a regular basis is cooking. More often than not kids grow up intimidated by cooking, and by the time they go live on their own and realize that it is cheaper and healthier to cook than to buy processed foods or eat out, they resort to looking up recipes and follow them as exactly as possible to make something that tastes good. So many moms I know just flat out hate cooking, or are just really uninspired and put off by the idea of having to fix a meal. Clearly, they never discovered the playfulness in cooking. 
When cooking we can be in the flow. And what better way to play and be in the flow with our kids than to share and help them find the joy in food. This guide contains ideas, suggestions, recipes that can be tweaked or discovered. In other words it is a guide to find the joy in cooking. To get to know their pallet. If you have told kids not to play with their food, in this space while you help them develop a love for making food, you will in essence be telling them "YOU MAY PLAY WITH YOUR FOOD".
Here we will break the mold of cooking with a recipe. Instead, kids will use the ingredients to craft their own recipe. Alternatively, they will make a dish with the elements provided, but will have to figure out how to mix them and what to do with them to get to a final product. Perhaps, they will invent something better in the process.
As a rule, get enough of the ingredients to make at least a couple of iterations for each "recipe". If the first time around it's a fail, kids can make some tweaks to improve the taste or their vision. If the first time around is delicious, they can make more of it!
Talk about what we will be making. Tell them for example, what is Tapenade -don't encourage them to look up the recipe, but to work with the ingredients they have in whichever way they think would make sense. Guide them, give them pointers, and encourage exploration, and tasting regularly.
This guide is perfect for a co-op class, where kids can be split into age groups. 
Below are the ingredients needed for each class with suggested age ranges. 
Some recipes are set, others are more creative (for example Tapenade includes all those ingredients, but kids can use the quantities at their discretion to make a tapenade that they like. All the "recipes" range in creative levels from 1 to 3 as follows:
Challenge – Given this set of ingredients, what would they do? Several ingredients will be available to make something out of them.
A set of ingredients are provided for a suggested dish. Use ingredients in the order and quantities you like best to make a suggested dish.
A set of ingredients is provided. Have fun with it. It is up to you to make it good.
If you have a class divided into groups, you could structure it so that a group makes Tapenade and another group uses the next set of ingredients to make something with the other group's Tapenade, such as a snack or appetizer. 
I think the youngest age to work with these ingredients and recipes is 7 years old and up. There are lots of foods that can be made without even cooking the ingredients, however, there are blenders, food processors, toaster ovens, and chopping that is not advisable to have around little kids. Even 7 year olds will need a high level of supervision when it comes to using a food processors. If you have a co-op group that ranges in ages 7 to 14 years old, the recipes can be very evenly distributed in age levels. And if so, I would advise to divide the groups by age, versus spread the ages into the groups. As though some may think intuitively that having older kids overseeing the younger kids in a group is a good idea, in the case of cooking that translates into the little kids not doing any cooking and getting less creative license while the older ones take on most of the tasks. The point here is that the young ones get the same out of the class as the older kids, but tailored to their age. 
In general, Level 1. The Challenge, is for the older kids. 2 is for younger and 3 is for youngest. I will point to the ages in class Class 1 below so you can see how the recipes would be distributed. 
On the other hand if you just have one child, this guide will work just great with just the two of you. Or dad and kids. It's very easy. All you need is a few tools and a willingness to make it fun and be open minded. 
For most of these you will need to provide: a food processor, cutting boards, and chopping knives, waxed paper, glass containers, bowls, a platter or tray. 
This guide purposely does not use granulated sugar, though I do suggest dates, maple syrup and honey in some instances. Otherwise I suggest stevia.
Class 1.
1. Challenge: Coconut,  lemon zest, oats, dates. 13 – 14 year olds
2. Tapenade: pitted Olives, olive oil, lemon, parsley, garlic. 10 – 12 year olds 
3. Crackers, bread, tomatoes, endives, cream cheese. May be paired with the tapenade. 7 – 9 yr olds
Class 2.
A hand blender and/or a food processor. Bowls, parchment paper, or waxed paper. A toaster oven.
2. Raw truffles: Cacao powder, almond meal, honey, vanilla extract, butter, orange zest.
2. Bruschetta: Wheel of sliced bread, tomatoes, olive oil, garlic, olives, Parmesan, can of tuna, capers.
3. Caterpillars: Cream cheese, almond butter, celery, green apple, cherry tomatoes, tomatoes, google eyes. 
Class 3.
1. Challenge: Hard boiled eggs, mayonnaise, paprika, can of tuna (preferably in olive oil), roasted red peppers (sold in jars).
2. Gazpacho:  Tomatoes, green bell pepper, cucumber, olive oil, vinagre, garlic, salt. 
3. Bananas with chocolate sauce: Cold bananas, cocoa powder, coconut oil, banana chips. The banana chips can be put into a zip lock bag and hammer until they turn into bits for a topping. Can add a drop of stevia to the chocolate sauce.
Class 4.
1. Challenge: Rice crispies, dates, banana chips, coconut, raisins, other dry fruit. 12 yrs (they can make cookies, snack bars, etc. They might need some wax paper.
2. Brie stuffed with fruit:  Brie, berries, walnuts. 14 yr olds
3. Banderillas (tiny party skewers): cherry tomatoes, celery, olives, roasted red peppers, pickled veggies. Toothpicks. 9yrs and 7 yrs
Class 5.
1. Fancy Salad: Heirloom tomatoes, baby greens, tangerine, radishes, heart of palm. Olive oil, lemon, salt.  
2. Pumpkin pies: cream cheese, dates, caned pumpkin. Crust: oatmeal, dates. A food processor to make the filling and the crust.
3. Sandwich paste: Tuna, mayonnaise, capers. Sandwich bread. 7yr olds
Class 6.
A pot, cutting bear and chopping knives, food processor, hand blender. Parchment paper.
1. Challenge: walnuts, a bunch of fresh basil, olive oil, garlic, pine nuts, spaghetti or penne pasta.
2. Humus: a can of garbanzo beans, olive oil, salt, lemon, garlic. Celery, baby carrots. 11 yr olds
2. Raw Truffles: Lemon zest, ground coconut, cashews, almond meal, honey, coconut oil or butter. 
Class 7.
Parchment paper, hand blender, food processor.
1.Snack bars: Raisins, walnuts, dates, rice crispies, white chocolate chips, cashews, a lemon, honey, coconut oil. 
2. Tomato cheese filling: cream cheese, tomato sauce, walnuts. Bread.
2. Green dip: tahini, parsley, garlic, olive oil, lime juice, salt
3. Have an idea. Make a shopping list fro the following class. 
Class 8.
1. Ingredients from the previous class shopping list are ready to go. Make your recipe.
2. Pumpkin soup. Pumpkin, butternut squash or can of pumpkin. Chicken Stock, onions, olive oil, cream, salt. What you will need: a pot.
2. Brie and berries, possible some nuts.
Class 9.
Cooking challenge. 
This is a Kitchen Ninja Challenge. 
The idea is to bring all kinds of salad stuff, including goodies like dried fruits, avocados,  olive oil, vinegar, lemon, tangerines, nuts, mustard, honey, rosemary, lots of greens, etc. Lay the ingredients out on the table or counter and have the kids, or different groups come and get the ingredients for their salad. Then have a "jury panel" a couple of parents and couple of kids (not from the class). Or just mom and dad. 
THE LECTURE
You know you had it coming…
For so long we have heard what is good for us and what is unhealthy. And it changes all the time. We can get a PhD on nutrition or become doctors and still we can be eating some great things and some awful things. It happens across the board. I know people who eat the healthiest vegan diet without a shadow of a doubt. But I look at all the tofu (soy) and all the raw green leafy veggies (high in nitrates) and I cringe. 
Likewise, when my husband tells people that he loses weight by eating a bunch fats and veggies, they think he's not telling the whole truth. 
It changes all the time…I remember when butter was almost a tabu, and people bought "fat free" processed foods that were loaded with sugars. Eggs were a cholesterol freak show. Only to latter find out that butter is actually pretty good for you, eggs are perfect, and "fat free" foods will make you fat. 
So I'm not going to tell you what you should feed your kids and what you should not. The ingredients in this guide are wholesome if used in moderation and specially if you purchase organic. 
But I must point out the following nutrition facts that are worth passing on to our kids in the form of facts and in the form of preaching by example. But, no need to be religious about it either. For example:
Carbohydrates turn into sugar in your blood. 
Potatoes are not a vegetable. No matter what they say at the school cafeteria. Potatoes are loaded with starch and carbohydrates, however, they are a great carbohydrate, and potato juice is one of the best things you can drink once in a while as it's food for the good bugs in part of the digestive system. 
Sugar is not good for you. Maybe one day the aliens will come down and tell us that sugar is actually a medicine and saves people in their planet. But until then, we can safely say: Stay away from sugar as much as you can. 
If you have cereal for breakfast, pasta for lunch, then you snacked  a piece of fruit and gold-fish crackers, and you have a burger with French fries and a soda for dinner. Even if the burger was made with grass fed beef and the potatoes were organic, you have eaten mostly sugar on that day and your diet sucked. 
Kids can handle some sugar, they burn the calories very quickly. Specially these homeschool kids that have the luxury of playing outside, move when they want to move, practice sports, etc. It's just that as they grow, if they are used to a lot of carbs and sugar in their diet, that will become the normal, and as they get older they'll become overweight and may develop other health problems. So I would suggest to err on the side of less carbs in their diet.
Note: An organic lollipop…no matter how organic the sugar is, it's still sugar!
However kids can really use fatty foods: bacon, cream, butter, cheese, coconut oil, olive oil, olives, sardines, salmon, shrimp, eggs…
I don't think kids benefit physically from eating a vegan diet. Veggies are good, but protein is better. The protein that we may get from beans and soy is Okay, the problems is that soy in not good for us, and beans have a defense mechanism to survive and therefore are probably not great for our digestive system. I know a lot of people who are deathly allergic to beans, I don't know anyone who is allergic to steak. 
Veggies
It can be torture for some kids to eat veggies. Parents are concerned about their kids intake of veggies to the point of bullying -you can't get up from the table until you eat your veggies…Kids cry at the sight or taste of veggies. I myself tortured a kid with a kale soup one time. I still can't shake the feeling and the poor kid's reaction. I think part of the problem is that the veggies that they are given to eat are bland, boring, they taste like plant, they feel like eating backyard, and they are usually offered on their own. I think veggies taste better coupled with other foods and flavors, like in a casserole or topped with cheese or apple sauce or sautéed. But we do have to start them early on to develop a taste for veggies. And well, picky eaters are picky eaters. In my case, I just put mayonnaise on everything I don't like, and suddenly I like it. But for those who don't have the same faith as I do in mayo, here are some ideas: 
Cream of spinach:
Mix a bag of frozen spinach with sautéed onions and a cup of bechamel (a white sauce made with butter, flower and milk, salt and pepper). 
Smoked ham soup:
Swiss chard or dandelion greens boiled in chicken stock with a chunk of smoked ham, some pieces of carrots, chunks of potatoes, olive oil and a pinch of salt. 
Sautéed collard greens or Swiss chard:
Slow sautéed with olive oil and garlic.
Sautéed peas:
Once steamed, strain and sauté with olive oils, salt and crushed garlic.
Mushrooms and asparagus sautéed and scrambled with egg. Optional melted cheese.
Steamed fresh spinach scrambled with eggs and olive oil. Topped with apple sauce. 
Cream of zucchini:
Zucchini boiled in chicken stock, olive oil, a slice or two of white cheddar cheese. Blend. 
Another note that is worth letting kids know about: In the age of smoothies, raw foods, and healthy green blends, be aware of too much raw green leafy vegetables in your smoothie or kale salad. Specially kale is very harsh in your stomach and it can have some adverse effects, and does have adverse effects on many people. Specially if they are susceptible to nitrates. 
Nutritious and healthy indulgences
I'm not saying you should make your kids eat really awful tasting fish oil, but, here are a couple of super easy ideas:
Fish oil lemon pudding – If you have a hand blender you can make whipped cream just by putting heavy whipping cream in your blender container with two or three drops of stevia and whip on low while constantly moving the blender to get the air in the cream. Careful not to turn it into butter by making it too hard. Once it has a good consistency, squirt some lemon flavored fish oil. Only enough to get a good dose of omega 3s and get the lemon flavor without loading it up so much that you get the fishy aftertaste.

 

Chocolate mouse – For those kids that just have to have desert, make the same whipped cream as above, add a few drops of stevia and cacao powder. Make it as chocolatie as they want. And for extra decadence make a chocolate sauce with cacao powder mixed into coconut oil.
Pumpkin mouse and Carmel oatmeal layers. In a cup or glass put a layer of canned pumpkin mixed with whipped cream, another layer of granola, another layer of pumpkin whipped cream and a top layer of cream cheese whipped with maple syrup. Top with crushed banana chips.

 

Baked apples. Topped with brown sugar.

 

Frozen cherries defrosted and wormed up, served with vanilla ice-cream, topped with berry flavored flax seed oil and a little sprinkled cacao powder.